Art of Concrete has developed a quality reputation over the past 8 years for offering a premium range of polished concrete, decorative concrete overlays and over concrete solutions.
Our flooring artisans specialise in polished concrete and concrete overlays. With a wide range of finishes available, you are sure to find one that seamlessly merges with your space or enables you to create a new and inspiring theme.
Whether you're after a mechanical polish, a decorative overlay or industrial coating, our concrete flooring solutions use high-quality products sourced from around the world. We work with leading industry suppliers to recommend a product that is the best fit for your purpose. We can tailor the aesthetic and finish of the concrete you desire all within your budget.
Our customers tend to have an adventurous nature and understand that to create a unique look that unfolds as the layering process evolves is part of the process in concrete floor finishes. The individual look and finish are an inherent characteristic of bespoke concrete floor finishes that will transform your space.
All our products are proudly designed and made right here in Australia by our proud manufacturers.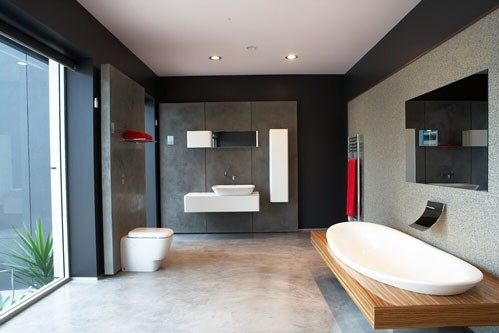 Offering Variety and Versatility
Whether it is an existing brick, block, concrete or gyprock wall, floor or surface, Art of Concrete have a system and method to create an artisan finish to blow your mind!
We offer a wide variety of products and applications, ranging from polished and honed concrete benchtops and furniture to Pandomo, X-bond, concrete moulding, Micro-Toppings, custom concrete wall renders, GFRC and Quartz Carpet
You may be in need of an outdoor recreational table, or perhaps even a concrete surface for your indoor dining table. At Art of Concrete, we are pioneers in our craft and have the experience moulding, honing and polishing our products in order to deliver the POW effect you desire!
Bring out the artisan finish in your home, office, retail business or factory with an Art of Concrete GFRC polished or natural custom moulded and designed product.
Products that offer you the consumer the most desired and artistic seamless concrete wall finishes.
Floors deserve better treatment than just being covered by your everyday floor coverings. We can transform Dirty, grey concrete floors into brilliant, easy-clean, environmentally-friendly and durable polished concrete surfaces.
We can transform Dirty, grey concrete floors into brilliant, easy-clean, environmentally-friendly and durable polished concrete surfaces with our epoxy coatings.
Micro toppings are unique seamless concrete toppings that break away from the generic concrete floor, wall or surface. Our styles and shades are versatile to blend in with any design.
The polished bond system creates a unique smooth polished concrete look, whilst the latex polymer feels warmer and softer underfoot than tiles and traditional polished concrete.
For any enquiries, please contact us on 0499 776 949.