If you're looking to install new surfaces for your kitchen, you can't go wrong with polished concrete benchtops. Concrete offers the same level of durability as granite or slate. However, unlike most natural rock materials, it's versatile enough to be used in almost any building designs.
With concrete benchtops becoming regular fixtures in homes and businesses, it's important to know how to properly care for them. It will help maximise the concrete's performance and extend its lifespan for many years.
Here are Art of Concrete's tips on how to maintain polished concrete benchtops the right way.
Taking care of your polished concrete benchtops
Compared to other building materials, It doesn't take too much effort to take care of polished concrete benchtops. Manufacturers often use sealers to maximise the performance of benchtops while also minimising their maintenance. This makes it easier to clean and manage concrete surfaces.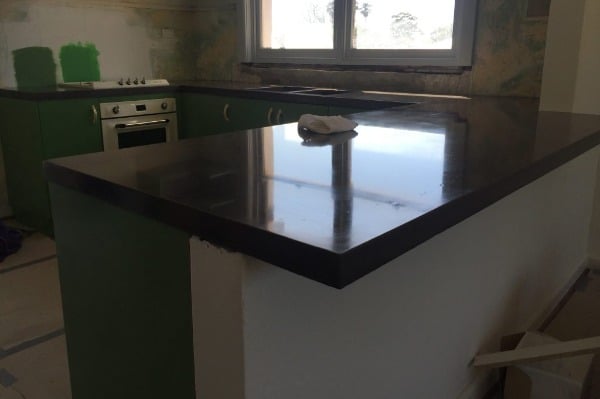 How to maintain concrete benchtops:
Use a soft damp cloth to wipe down your benchtops.
Make sure to use a mild non-abrasive cleanser when removing stubborn stains.
Avoid exposing your benchtops to products with high pH levels such as oven cleaner. Rinse your surfaces immediately after applying a cleaning product to neutralise the effect. You can then follow the usual cleaning process for concrete benchtops.
Keep your benchtops from being exposed to paint strippers, bleach and nail polish remover. Rinse your surfaces immediately using clean water to counteract the effect. Clean your benchtops using the standard procedure as mentioned above.
Do not expose your benchtops, especially their edges, to high impact.
Avoid placing excessive weight on your concrete benchtops (Ex. a person standing on top of the benchtop).
Removing stubborn stains and dried spills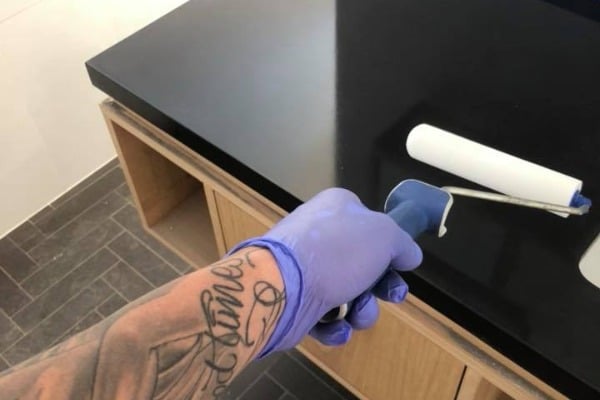 One of the biggest challenges in taking care of concrete benchtops is cleaning stains and spills. At Art of Concrete, we use high-end sealers to make our benchtops more resistant to food stains. These include most food used in the kitchen such as wine, liquid food colouring, tea and spices with strong colours.
For dried spills, you have to remove any solids on your concrete benchtops first. You can then use a wet cloth to properly wipe any stubborn stains. You can also use non-acidic and non-abrasive cleansers on your benchtops if needed. However, you have to rinse them well with water to remove the cleaning solution.
While cleaning, avoid forcefully scrubbing your concrete benchtops. This can reduce the shine on your polished concrete and remove its protective sealer.
Protecting your polished concrete benchtop from direct sunlight
Concrete benchtops also make excellent additions to exterior installations. With the right kind of sealer, you can make polished concrete more suitable for the outdoors. However, exposure to direct sunlight and weather can still result in slight discolouration over time. You have to keep regular maintenance work on your concrete benchtops to avoid this from happening.
Keeping your polished concrete benchtop's heat resistance
We don't recommend placing hot items directly on your concrete benchtops. Despite being heat resistant, concrete can still get damaged from thermal shock especially when exposed to excessive localised heat. You can avoid this by using trivets and heat mats for hot cookware such as hot skillets, pots, and saucepans. This saves your concrete benchtops from coming into direct contact with hot items.
Minimising scratches, cracks and edge chipping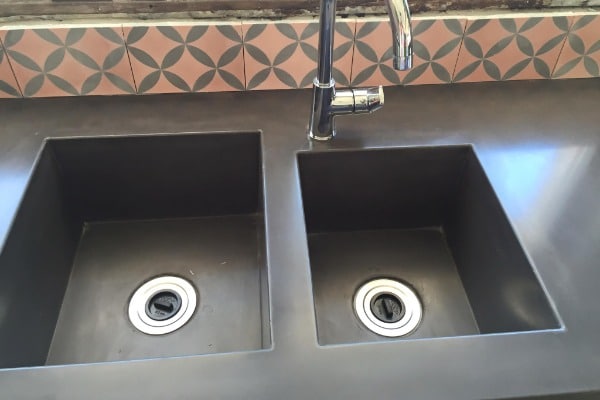 Manufacturers typically apply sealers on concrete benchtops to keep the surfaces free from scratches and other abrasive marks. However, these sealer can wear off over time, leaving the benchtops susceptible to damaging.
One way to minimise scratching is by using a chopping board when cutting food. You should also avoid dragging heavy items or items with a sharp or rough bottom on your benchtop's surface.
Just like with other stone benchtop materials, concrete can also get chipped or cracked when not taken care of properly. Avoid exposing the surface and edges of your concrete benchtops to high impacts, especially from hard objects. The areas around voids, such as sink and oven cutouts, are particularly weak points. These can often develop hairline cracks.
These kinds of damages are more aesthetic than structural. A damaged countertop edge or surface doesn't necessarily mean you have a defective material. The same also goes for the stone edge for an under-mount sink.
Maintaining your concrete benchtop for years to come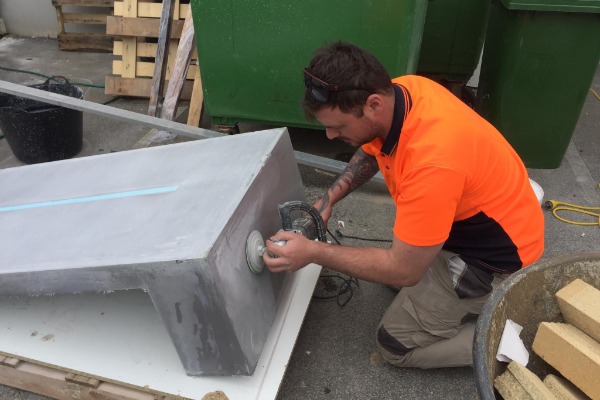 Over the years, the sealer on your polished concrete benchtops will wear off. When this happens, you might see some scratches and stains develop on their surfaces or edges.
However, you shouldn't worry about it too much. You can easily rejuvenate the look of your concrete benchtops by sanding them and reapplying new sealers.
Taking care of polished concrete benchtops doesn't have to be overly complicated. As long as you know the dos' and don'ts of concrete maintenance, you can preserve the look of your benchtops for many years to come.
Of course, it also helps to have a reliable concrete benchtop manufacturers. They can provide you with all the professional help you'll need.
For more information on how to maintain your polished concrete benchtops, contact us today. You can also check out our Aftercare guide on how to clean and protect your benchtops' artisan finish.